Edwardsville Swimming Pool Fence Services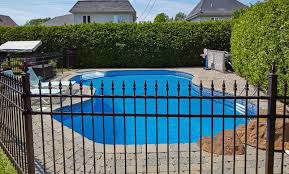 Edwardsville Fence & Deck can help you with any type of fencing you need including a fence installation around your swimming pool.
Iron pool fencing looks classy, and protects children and pets. Our swimming pool fencing is climb resistant for small children because it provides no foothold for them to be able to get leverage to climb over like a tradition chain link fence would.
A good pool fence provides pool owners with peace of mind that their pool is going to be secure whether they are home or not.
All of our fence installations meet code regulations and our professional staff go above and beyond to make sure customers are only provided with the highest quality service.
If you need a new swimming pool fence or a swimming pool fence repair, you've come to the right place! Edwardsville Fence & Deck Company provides top-quality swimming pool fence services.
Call us at 618-414-4232 or sign up for a free quote using the form on this page.
NEXT > Wood Staining & Sealing