Edwardsville Gate Installation or Repair Services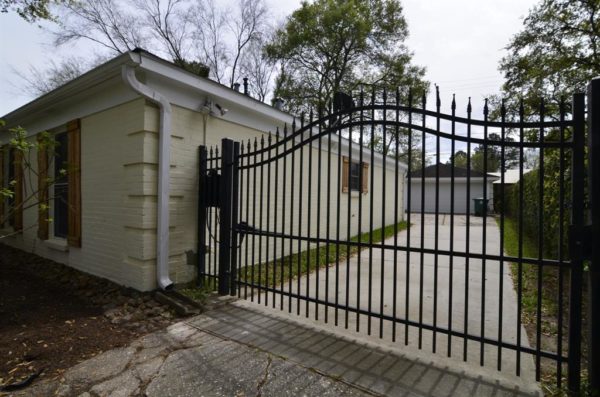 Home is a place where you should feel safe and secure, and a professional gate installation from Edwardsville Fence & Deck is a great way to enhance your home security.
All of our products are manufactured using the highest quality materials, and our gates are no exception. Just like our iron fencing, our iron gates are manufactured to be tough. All Edwardsville Fence and Deck's iron gates are treated with powder and epoxy in a multi-step manufacturing process that ensures they will withstand the unpredictable and sometimes harsh Illinois weather.
Our wooden gates are treated to withstand weather, protect against pests, and to retain the beauty of the natural wood color for years to come. Your gate will look good, and it will last.
Edwardsville Fence & Deck Company can install all kinds of gates:
Retractable gate
Sliding gate
Swing gate
Overhead gate
Motorized gates systems make coming and going easy. You won't even have to leave your car when the power goes out with our systems.
Edwardsville Fence & Deck Company is made up of true gate professionals. We pride ourselves on the quality of our gate installation services as well as our ability to satisfactorily repair any existing gate you have.
If you need a gate repair or a custom installation don't hesitate to call us at 618-414-4232.
You can also fill out the form on this page to get your free quote for your new professional gate installation or your gate repair.
Rest assured, when you trust Edwardsville Fence & Deck Company for your gate installation or repair, you will not be disappointed. There's a reason we're the #1 gate installation specialists in Edwardsville, IL and the surrounding areas.
NEXT> Pet Fence