Edwardsville Chain Link Fencing Services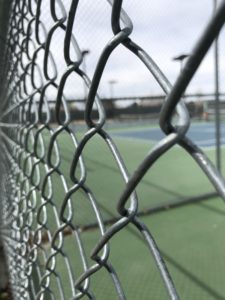 One the most popular options in fence installation is chain link. Chain link fence is sought after as the best alternative to an wooden or vinyl privacy or iron fence because of its affordability, durability, and transparency.
Because chain link is easy to see through, it's great for providing a barrier that also allows you to keep an eye on your children or pets while also keeping them secure.
Because chain link is made from galvanized metal, it's extremely durable and weather-resistant. Installation is very quick and easy, and once we install your chain link fence for you, you will be able to sit back, relax, and enjoy your yard without having to worry about replacing your fence.
All of our chain link fence is treated in the manufacturing process to protect it from the weather.
You may choose from:
Silver galvanized chain link fencing.
Green or black colored chain link fencing.
Green or black fencing is covered by an extra layer of protective material that not only adds beauty to the look of your yard, it also adds even more protection than the standard chain link.
Speak with your service professional about which option you'd prefer for your chain link fence installation, and you may also ask him about the different gauges that are available.
We offer professional installation for all types and sizes of chain link fence. No job is too big or too small. Whether you need chain link fencing for your residence or you need chain link fencing for a large commercial project, Edwardsville Fence and Deck can provide you all you will need for your professional fence installation.
Simply call us at
618-414-4232.
If you'd prefer to save time, fill out the quote form on this page and one of our friendly staff will get in touch with you soon.